Pam's Harvest craft adds dozens of foods... but in Blightfall it is severely limited! This is not your regular food list from Pam's!
In Blightfall, repeated consumption of the same food item results in a diminishing returns of its nutritional value, each instance lasting for 200 hunger. Therefore, having a wide variety of food items is critical to survival, especially in the early-game.
Below is a list of all the seeds/Saplings and craft-able food items from both Pam's HC and Vanilla.
Seeds
Asparagus
Barley
Bellpepper
Broccoli
Bushes from Natura (Maloberry, Raspberry, Blackberry, Blueberry)
Cabbage
Carrot
Corn
Cocoa
(Cotton) No food from this, but string!
Cucumber
Eggplant
Garlic
Grape
Onion
Parsnip
Peanut
Peas
Potato
Pumpkin
Raspberry
Scallion
Spice leaf
Turnip
Tomato
Sweet Potato
Watermelon
Wheat
Saplings
Olive
Almond
Date
Chestnut
Pistachio
Apple
Peppercorn
Foods
Tier 1 (Basic Ingredients)
All raw fruits/veggies/nuts
Cooked/raw Beef
Cooked/raw Chicken
Cooked/raw Pork chop
Cooked/raw Mutton
Cooked/raw Fishy item (Fish/Salmon/calamari/pufferfish ect.)
Bread
Ice cream
Root (Spice Leaf)
Seed Soup (Seed, Stock)
Juice (Berry/fruit/Veggie)
Jelly (Apple/Blackberry/Blueberry/Raspberry/Watermelon, Honey/Sugar)
Smoothie (Berry/fruit, snowball)
Grilled Asparagus
Grilled Eggplant
Scrambled Egg (Egg)
Applesauce (Apple)
Grilled Mushroom (Mushroom)
Pork Sausage (Cooked Porkchop, Spice Leaf, Salt)
Fried Egg
Broiled egg
Marshmallow (Honey/sugar, water, egg)
Caramel (Honey, Sugar)
Peppermint (Spice leaf, Sugar/Honey)
Gummy Bears (Spice leaf, Sugar/Honey, red dye)
Taffy (Water, Salt, Sugar/Honey)
Jellybeans (Sugar/Honey, Red Dye, Yellow Dye)
Fruit Medley (3x Berries, bowl)
Yogurt (Milk, Leather)
Stemed Peas (Pea, Water, Salt)
Sunflower seeds/Salted (Only gotten from seed bags, cannot plant)
Baked Ham (Raw Porkchop, Apple, Sugar)
(Difficulty) Bacon
(Difficulty) Meat Nugget
Tier 2 (At least 1 Premade food)
Toast
Caramel Apple (Apple, Caramel, Stick)
Stuffed Mushrooms (Mushroom, Cheese, Toast)
Sunflower Broccoli Salad (Sunflower Seeds, Broccoli, Mayo, sugar/honey, Cooked Porkchop)
Breaded Porkchop (Raw Porkchop, flour)
Energy Drink (Bubbly Water, sugar, redstone)
Flavored Yogurt (Yogurt, Blueberry/Blackberry/Pumpkin/Raspberry/Melon/Apple)
Cactus Soup (Cactus, Stock)
Pot Roast (Raw Beef, Potato, Carrot, Stock)
Turnip Soup (Turnip, Pumpkin, butter, Stock)
Coleslaw (Cabbage, Carrot, Mayo, pepper)
Meaty Stew (Raw Chicken/pork/beef/Meat Ingot, Flour, Stock)
Donut (Dough, Cooking oil)
Blueberry Muffin (Blueberry, Flour, egg)
Pumpkin Muffin (Pumpkin, Flour, egg)
Pancakes (Flour, Egg, Milk)
Soft Pretzel (Dough, Butter, Salt)
Suadero (Steak, Cooking oil)
Split Pea Soup (Pea, Cooked Beef, Pepper, Stock)
MInce Pie (Steak, apple/date, Nut, dough, butter)
Baked Turnip (Turnip, Butter, Salt, Pepper)
Cucumber Soup (Cucumber, Stock, Heavy Cream)
Chicken Pot Pie (Raw Chicken, Potato, Carrot, Dough)
Spaghetti (Tomato, Pasta, Spice Leaf)
Tomato Soup (Tomato, Stock)
Spider Eye Soup (Stock, Spider Eye)
Egg Salad (Broiled Egg, Mayo)
Potato Salad (Potato, Mayo)
Fish sticks (Fishy item, Flour)
Apple Pie (Apple, Dough, Honey/sugar)
Pumpkin Bread  (Pumpkin, Dough, Honey/sugar)
Carrot Cake  (Carrot, Dough, Honey/sugar)
Red Velvet Cake (Milk, Flour, Heavy Cream, Sugar/honey, egg, 2x red dye)
Blackberry Cobbler (Blackberry, sugar/honey, Dough)
Blueberry Pie (Blueberry, Dough, Sugar/Honey)
Raspberry Pie (Raspberry, sugar/honey, Dough)
Sunflower Wheat Rolls (Sunflower seeds, flour, egg, salt, cooking oil)
Glazed Carrots  (Carrots, Butter, Honey/sugar)
Buttered Potato  (Butter, Potato)
Potato Soup (Potato, Salt, Stock)
Creamed Broccoli Soup (Broccoli, Carrot, Flour, Pepper, Stock)
Split Pea Soup (Pea, Cooked Porkchop, pepper, stock)
(Difficulty) Hotdog (Meat nuggets, Bread)
Fish And Chips (Fish sticks, Fries)
Tier 3 (Multiple steps)
Cheeseburger (Burger, Cheese)
Frosted Donut (Donut, Sugar, Red dye, Yellow dye, Green dye)
Herb Butter Parsnips (Parsnip, Butter, Spice Leaf)
Chicken noodle Soup (Raw Chicken, Carrot, Pasta, Stock)
Bangers and mash (Pork Sausage, Mashed potatoes)
Battered sausage (Pork Sausage, Batter)
Blueberry Pancakes (Pancake, Blueberry)
Baked Turnip (Turnip, butter, salt, pepper)
Zucchini Fries (Zucchini, Toast, Cheese, Egg)
Powdered Donut (Donut, Honey/sugar)
Zucchini Fries (Zucchini, Toast, Cheese, Egg)
Broccoli Mac (Broccoli, Pasta, Cheese)
Chicken Parmesan (Cooked Chicken, Tomato, Cheese)
Eggplant Parm (Eggplant, Tomato, Pasta, Cheese)
Pizza (Dough, Cheese, Tomato,  Raw Pork chop)
Grilled Cheese (Toast, Butter, Cheese)
Mashed Potato (Buttered Potato, Salt)
Loaded Baked Potato (Buttered Potato, Cheese, Bacon)
Chicken Sandwich (Chicken, Bread, Mayo)
Fish Sandwich (Fishy item, Bread, Mayo)
Waffles (Flour, egg, Milk, Butter)
Fried Chicken (Raw Chicken, Flour, Spice leaf, pepper, cooking oil)
Max Foods (Lol Bacon)
Bacon Cheeseburger (Cheeseburger, Bacon)
Bacon Mushroom Burger (Bacon Cheeseburger, Mushroom)
Spaghetti and Meatballs (Spaghetti, steak)
Pumpkin cheesecake (Cheesecake, Pumpkin)
Epic Bacon (Bacon, + Red/green/purple/orange/blue/yellow/magenta dye)
Pre-made Basics
(This is a list of items that I found helpful to stock my fridges with)
Flour
Dough
Batter
Water
Bubbly Water
Butter
Cheese (Milk, Salt)
Heavy Cream (Milk)
Milk
Mayo (Egg)
Ketchup (Tomato)
Pasta (Dough, Butter)
Stock
Bread
Sugar
Salt
Pepper
Honey
(Food related) TIPS
-Get a cooking for block heads set up right away
-Claim your seed/sapling bag every day
-Barley grows much faster than wheat
-Some cakes seem to avoid Diminishing returns
- Natura Berry bushes are found at some scout locations, brave the wilderness! (These open at least 20 different foods)
-Watermelon and Pumpkin seeds are found at scout locations, get them or the taint will, and you'll be SOL.
- Cocoa beans are easily grabbed from a jungle island while out scouting on a boat
-Make a Lunch box as soon as possible, 6 smart slots for food is so helpful
Difficulties With Food
- Bacon is only 'farmed' with Pig Iron tools (Blood, emerald, Iron) from Tinkers construct
- Meat Nuggets/ingots are from Minefactory Reloaded Slaughter house
- I found that only having 1 or two fridges was not convenient (Cooking for Blockheads) So, I took advantage of the multi block structure...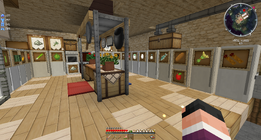 Community content is available under
CC-BY-SA
unless otherwise noted.